Contact Information

Use specified numbers for appointments
SOMAJIGUDA BRANCH :
Basement, Nava Bharat Chambers, G-3-1109/1
Raj Bhavan Road, Somajiguda,
Hyd-82.
Tel: 040-23418975, 23418976
For Appointments: +91 9440401857
DILSUKHNAGAR BRANCH:
3rd Floor, Rinda Plaza. Near Andal Nilayarr (Above DBR Diagnostic), Dilsukhnagar, Hyderabad - 500 060. Tel: 040 - 24558975
For Appointments: +91 9391023775
Email: kknuclearscans.k@gmail.com
Our Clinic

Dr K Kumaresan Consultant Nuclear Physician, Mrs Geetha Kumaresan Proprietor
K K Nuclear Scans is a clinic specializing in Nuclear Medicine, with centres offering state of the art diagnostic services and treatment in Hyderabad . We carry out many popular procedures such as thyroid and cardiac diagnostic scans and treatment.
We have completed 7 years of service and now time for a New Camera!
Ours is an exclusive Nuclear Medicine centre providing wide range of diagnostic nuclear scans with sate of art Gamma Camera. Our centre at Raj Bhavan Road, Somajiguda was inaugurated on 15 Jan 2007. Now after completing 15,265 scans in the past 7 years, we have replaced the equipment with a new Gamma Camera.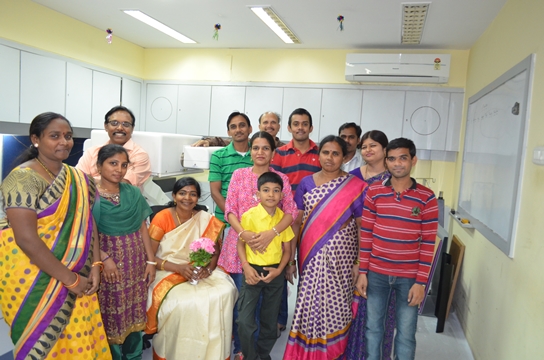 7 Years of Sevice
15,265 Nuclear Scans done in 7 years and it is now time for a New Gamma Camera!
KK Nuclear Scans was inaugurated on 15 Jan 2007. Now, we have completed 7 years and during this period we have rendered service to more than 16,000 patients – 768 patients were treated with radio-iodine for thyroid disease and 15265 patients benefitted by the Gamma Camera scanning procedures as listed below:


| | |
| --- | --- |
| Kidney scans (for adults and children) | 4035       (26 %) |
| Bone scans (for ortho complaints or cancer survey) | 2710       (18 %) |
| Cardiac scans (for ischemia or viability)  | 2223       (15 %) |
| Thyroid scans     | 1972       (13 %) |
| Whole Body Radio-iodine scans (for thyroid cancer) | 1036       (7 %) |
| Liver, Parathyroid & other scans                | 3289       (21 %) |

We have also made a humble contribution to the economically weaker section in the society by giving discount to the tune of more than Rs One Lakh every year on the scan charges.

The first Gamma Camera which was used for the past 7 years to perform the above scans has been  taken out and a New Whole Body and SPECT Gamma Camera (GE Millennium MPR with latest Xeleris work station) has been installed in its place.

Thanks to the confidence and trust placed on us by our fellow physicians and surgeons, specialists from various fields and the patients, we could make good use of the equipment and provide ethical service to our own satisfaction. Thanks to the staff of KK Nuclear scans for the productivity and the service engineers for ensuring smooth and uninterrupted service to the patients. Now, with the new state of art equipment in place, we rededicate ourselves to continue our service to the patients.