Contact Information

Use specified numbers for appointments
SOMAJIGUDA BRANCH :
Basement, Nava Bharat Chambers,
G-3-1109/1, Raj Bhavan Road, Somajiguda, Hyderabad - 500 082.
Tel: 040-23418975, 23418976
For Appointments: +91 9440401857
DILSUKHNAGAR BRANCH:
3rd Floor, Rinda Plaza. Near Andal Nilayarr (Above DBR Diagnostic), Dilsukhnagar, Hyderabad - 500 060. Tel: 040 - 24558975
For Appointments: +91 9391023775
Email: kknuclearscans.k@gmail.com
Our Clinic

K K Nuclear Scans is a clinic specializing in Nuclear Medicine, with centres offering state of the art diagnostic services and treatment in Hyderabad . We carry out various nuclear scanning procedures and also provide radio iodine treatment for thyroid patients.
Recent Activities by KK Nuclear Scans:  
KK Nuclear Scans completes 12 years of service as on 15th Jan 2019
KK Nuclear Scans was inaugurated on 15 Jan 2007. Now, we have completed 12 years. During the year 2018, we have rendered service to patients –139 patients were treated with radio-iodine for thyroid disease and 4907 patients benefitted by the Gamma Camera scanning procedures Kidney scans (48%), Cardiac scans (15%), Thyroid scans (14%), Bone scans ( 9%), others (14%) We also made a humble contribution to the economically weaker section in the society by giving discount to the tune of more than Rs One Lakh every month during the year 2018. We have supported the continuing education activity under NIMS Radiology Alumni Association. We pledge to continue to strive for excellence in our services to the patients.
20th July 2019
Dr K Kumaresan delivered a lecture on "Nuclear Medicine Basics" at the 18th Hyderabad Annual Radiologic Physics Course at KIMS Auditorium Hyderabad.
18th May 2019
Dr K Kumaresan was a panellist along with President ATA and Presidents of ANMPI in the discussion on "ATA Guidelines" in the Indian Thyroid Society Conference held at Hotel Taj West End, Bangalore.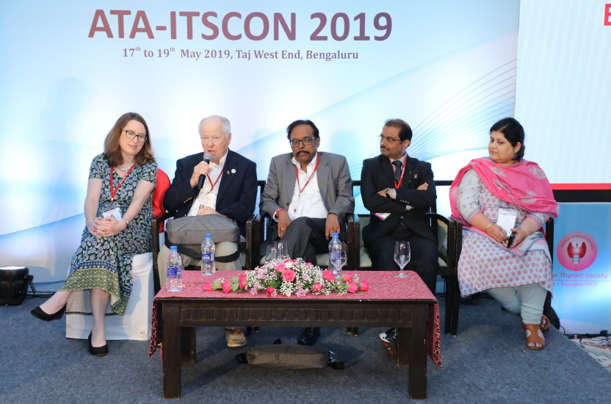 12th May 2019
Dr K Kumaresan presented a scientific poster on "Appropriate Use of Stress Myocardial Perfusion Scan – One-year study from a standalone Nuclear imaging centre" in International Congress of Nuclear Cardiology held at Lisbon, Portugal during 10 -12 May 2019.
21st April 2019
Dr K Kumaresan delivered a talk on Nuclear Scan Versus FFR in the assessment of Functional Stenosis. Imaging and Physiology Summit 2019 by Hyderabad Interventional Council at Hotel Marigold Hyderabad
7th April 2019
Dr K Kumaresan delivered Se Sesha Sai Oration of the Indian Academy of Pediatrics – Telangana Chapter Branch on the Topic "Pediatric Nuclear Medicine – a Journey of Three Decades" at Hotel Plaza Hyderabad.